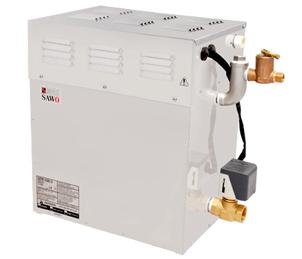 SAWO steam generator
No:
Category:Steam generator
Brand:滨特尔
Intro:SWAO humidity steam generator has a high quantity material and moderate design, so it looks so perfectly .t is so small that can fix on the room wall or furniture options.
Description
Product Description:
The STP steam generator is a very powerful and reliable steam unit. The slender body is made of stainless steel sheet inside and outside providing long lasting strength and durability. Packed with temperature sensor, snap-in connection control unit, steam head and autodrain.
STP steam generators are available as 2 heating elements (3-5kW), 3 heating elements (4.5-7.5kW) and 6 heating elements (9-12kW). Kilowatt ratings of steam generators depend on the size of the steam rooms. Check the table below to determine correct power requirement of your steam rooms.