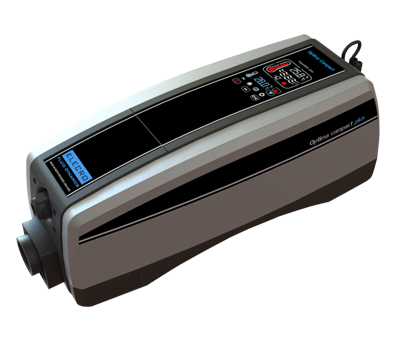 Elecro pool heater series
No:
Category:Heater & Heat Pump
Brand:易来热
Intro:
Description
Features:
• 100% operational efficiency throughout product life
• Titanium heating elements and flow tube – zero corrosion guaranteed
• Dual Schneider contactors
• Flow Switch, no pump interlock required
• Robust & durable
• Safe & reliable
• Easy to install
• Floor or wall mountable (bracket supplied)
• Analogue control of pool water temperature to 45°C
• Silent Operation
Specification and Models:
Flow requirements: Minimum flow: 4m³/h, Maximum flow: 17m³/h, Recommended: 10m³/h
Heating elements: Titanium, high MgO compaction and low watts density
Flow tubes: Pure Titanium
Cladding panels: Moulded Aluminium, epoxy powder coated
Contactors: Dual Schneider contactors
Safety thermal cut out: 55°C (manual reset)
Analogue: 0>45°C (1°C differential)
Flow switch: Gold tipped reed switch with titanium fulcrum pin
Wiring: High temperature, silicone sheathed, multi-strand copper conductors
Seals: High temperature special formula EPDM
Water connections: 1.5" BSP supplied with 1.5" to 50mm ABS unions
Working pressure: 4 bar maximum
Mounting: Floor or wall mounting (wall bracket supplied)
Dimensions: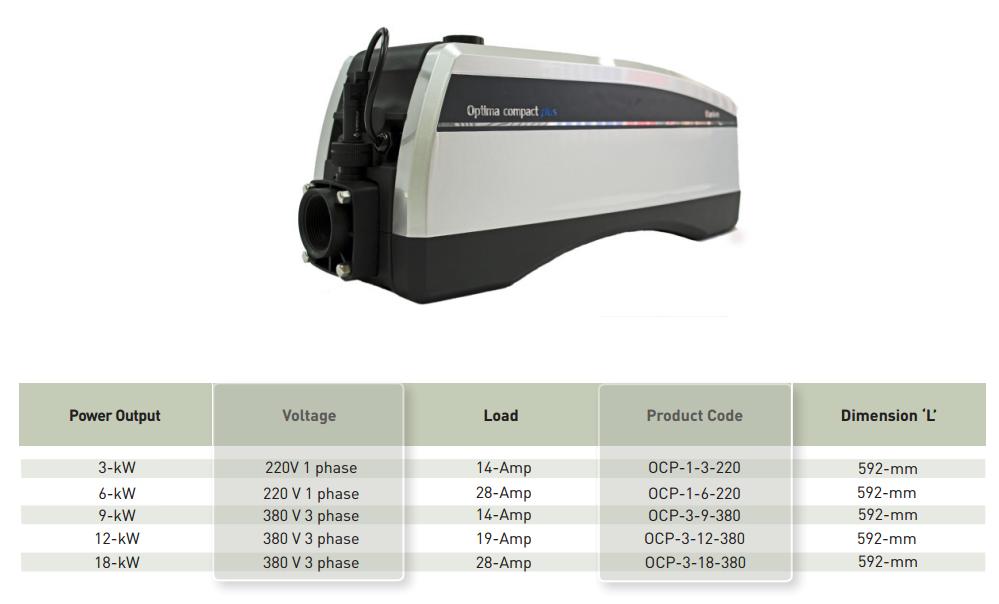 All Elecro electric heaters feature our unique and proven coiled heating element technology, whereby a turbulent vortex is created in the water flow. This delivers outstanding efficiency and extended life expectancy by preventing the build up of mineral deposits on the heating elements.

The Optima Compact plus can be easily operated using the analogue thermostat, accurate to 1°C and is silent in operation. The inlet moulding has weir chambers which induce a vortexing action eliminating the risk of air locking and preventing encrustation build up on the heating elements; whilst the outlet moulding accommodates a flow switch with gold tipped reeds, for ultimate reliability and safety. Over-heating is prevented by a manual-reset thermal safety cut-out.

The heater can be vertically wall-mounted using the bracket provided, or freestanding on the floor using the two footed base.
Whether used as a stand-alone device or back up for a heat pump the Optima Compact plus will provide many years of reliable maintenance free service, and like all Elecro electric heaters will operate at 100% efficiency throughout its life.