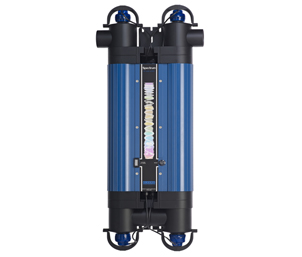 Elecro UV ultraviolet swimming pool system
No:
Category:Heater & Heat Pump
Brand:易来热
Intro:
Description
The elecro Spectrum UV is the ideal pool hygiene solution, eliminating chloramines and controlling harmful pathogens. Working in compliment to any other sanitising process, the Spectrum UV improves water quality and clarity - enhancing the swimming experience.
Water treatment with the Elecro Spectrum UV is complimentary to all other sanitisation processes (including chlorine, bromine, active oxygen, peroxide and copper based compounds) and allows for the levels of these compounds to be significantly reduced. In the case of organisms such as cryptosporidium, UV treatment is the only proven method that destroys it in swimming pool water.
In addition, UV treatment introduces no by-products into the water but also has no residual effect and therefore a small background level of disinfectant should always be maintained. The system utilises high output, low pressure UV Philips lamps, powered by electronic ballasts. The water is routed through a narrow diameter, long flow path, ensuring close and extended UV contact along the length of two 90cm lamps. This design also ensures that the product's quartz sleeves are continuously rinsed by the water flow, avoiding the encrustations that may typically affect UV sanitising performance.
The unit features an 'end of lamp life' indicator, which flashes 'red' when the UV lamps need changing. No system drainage is required to do this.
Features:
• Suitable for all pools up to 100,000 litres
• Improves water quality and clarity
• Destroys harmful chloramines
• Controls bacteria, micro organisms and pathogens
• Easily dismantled for maintenance & service
• Low maintenance costs
• Robust & durable
• 2 x 55W Philips Lamps (110W total output)
• 'End of lamp life' indicator
• UV Lamps can be replaced without needing to drain the system
• 2-year warranty
Specification:
Voltage and frequency: 201V ~ 240V 50 / 60Hz
Maximum Operating Pressue: 3 bar
Lamp output: 2 x 55W (110W total)
UV-C output: 2 x 18W (36W total)
Lamp pressure: Low
Lamp life: 8,000 hours
Maximum flow rate: 8,000 Imp gallons / 36,000 litres per hour
IP rating: IP64
Maximum pool size: 22,000 Imp gallons / 100,000 litres
Water connections: 2" BSP / 63mm stepped
Approvals: CE approved