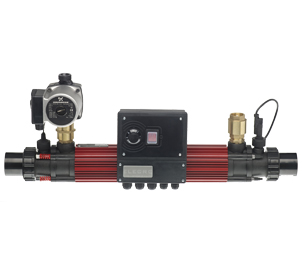 Elecro G2 heat exchanger
No:
Category:Heater & Heat Pump
Brand:易来热
Intro:
Description

The Elecro G2 heat exchanger is manufactured from top quality components and materials at the Elecro works in Hertfordshire, England.

The heat exchanger construction gives a vast heat transfer surface area, consisting of a densely populated multi-tubular bundle, secured by the uniquely designed polyamide-rubber tube sheet. The heat exchanger shell is constructed from BS 316 Stainless Steel – enclosed by a rigid thermal shell for enhanced insulation of the primary (HOT) water enabling even greater heat transfer; this is capped at each end with primary and secondary moulded fittings manufactured from specially formulated polymer alloy material.
The standard G2 heat exchanger is supplied complete with:
2 x 1" male/male Brass primary connections

1 x 1" Brass Non-return valve

1 x Titanium thermostat pocket

1 x Blanking cap & coin gasket (for non-thermostat side)
The Elecro G2 heat exchanger has been designed to allow the installation engineer to select which way to plumb the primary and secondary water to achieve maximum thermal gain; this is achieved by routing the primary (HOT) flow in an opposing direction to the secondary (POOL) water.
Maximum efficiency – rigid thermal shell to insulate the primary circuit:
• Robust & durable
• Titanium tube bundle
• BS 316 stainless steel shell (EN 1.4432) with special polymer alloy fittings
• Wall mountable with supplied bracket
• Vast, unrivalled heat transfer surface area
• Low hold up volume